A legal marriage in the Goddess Temple is unique in the fact that it is in the format of a Handfasting, an ancient Pagan sacred marriage ceremony.
As the sacred marriage ceremony takes the couple on a journey around the four elements of air, fire, water and earth, so it includes a ritual for each of the elements.
We provide the equipment needed, such as incense bowl and incense for the air ritual, which represents the beginning of your relationship. The Priestess Celebrant smudges you both with incense hand blended by Priestesses and Temple Melissae to cleanse and make ready for your new life together as married beloveds.
At fire we bless your union with the sacred temple flame, the Flame of Avalon. Fire represents passion and the fire of love in your relationship. During the ritual you are both invited to light your own candle from the temple flame and so keep it as a perpetual flame to love with the deep connection to the Goddess Temple wherein you spoke your words of truth and love.
For the water ritual we have the temple chalice, which holds the waters of the red and white springs, collected ceremonially by Priestesses the evening before your Marriage. The element of water represents the emotions and flowing freely with the Ocean of your love as you take your vows and say the legal words.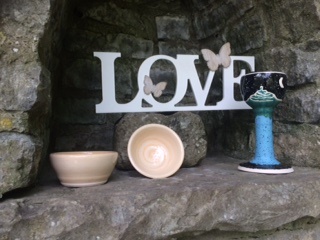 At earth we have the handfasting ritual, which is the deepening of the sacred marriage. In Avalon we favour the hoop and wand method. The groom creates his wand from a fallen branch that is a gift from Mother Earth on the forest floor or even driftwood from the seashore. This represents the sacred masculine and is prepared by the husband-to-be. He may sand, carve or oil it, then decorate it with crystals and copper wire – all done as he feels his creative flow and thoughts of his beloved and his role in the family. The hoop is either made by the bride from withy, flexible lengths of willow wood and decorated with silk flowers, ribbons and crystals, or can ordered from our florist in Glastonbury at Enchanted Florals. This represents her divine feminine. Together the couple's ring hands are bound with red and white ribbons to the hoop & wand (white for the father line and red for the mother line). The guests attending are then invited to come forward to tie their ribbons onto the hoop and wand and to offer their personal blessings and good wishes. The ribbons containing the energies and love of everyone attending!
If a sacred marriage ceremony is something that you have been dreaming of, please do get in touch and we can talk through what we can offer to you, to personalise your dream wedding in Avalon.