Glastonbury Goddess Temple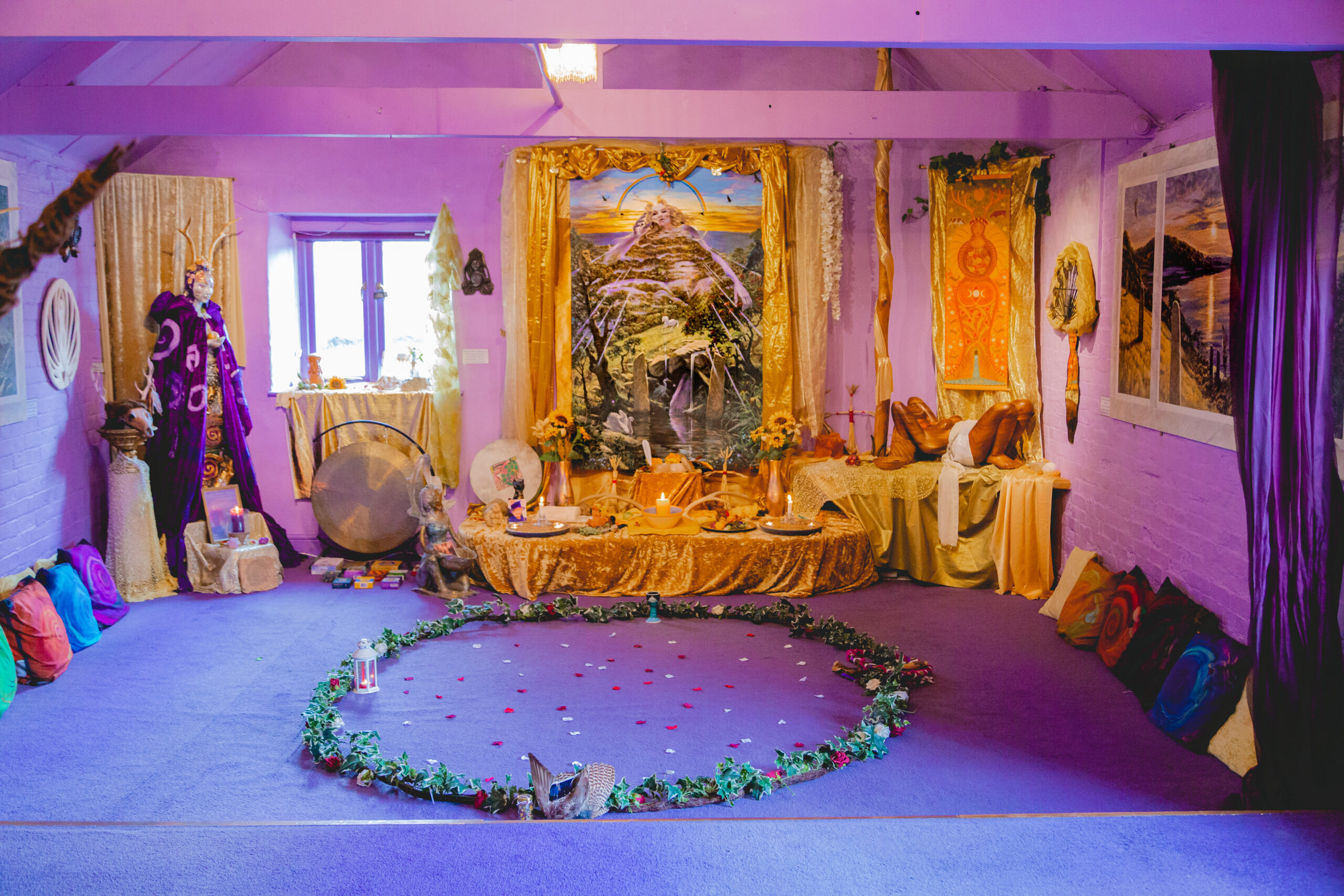 Glastonbury Goddess Temple was first opened to the public in 2002 and was formally registered as a Place of Worship on 18th June 2003. We believe that we are the first indigenous British Goddess Temple for perhaps 1,500 years to be officially recognised as such within Brigit's Isles or Europe. This is an 'herstoric' registration as for the first time a sacred space has been recognised which rests within the embrace of Goddess.
Glastonbury Goddess Temple is dedicated to the Lady of Avalon, who is Goddess of the Sacred Isle of Avalon, which is the Otherworldly counterpart to the everyday world of Glastonbury. Our Temple is a very special place and we hold it with open hearts and wide loving consciousness as a Sacred Space of Goddess. People travel from all over the world to visit our Goddess Temple, to commune with the Lady in this sacred space specially dedicated to Her.
The Glastonbury Goddess Temple is located in the Courtyard of the Glastonbury Experience, up the wooden staircase. It is open to the public 365 days of the year for prayer, ceremony, meditation and worship from 12.00 noon-4.00pm. While the Temple is open, volunteer Melissas are in attendance to look after the space, to offer blessings, perform ceremonies, etc. The Temple is used for smaller public ceremonies, New Moon Healings and Ceremonies of Embodiment of the Lady of Avalon. The Goddess Temple is also available for Legal Weddings, Handfastings, Rites of Passage, etc. We happily welcome pre-arranged groups of pilgrims, school and college students, from home and abroad, who want to learn more about Goddess and the Temple. We offer a gateway to the Goddess in Glastonbury and Avalon, where people can come to pray, attend ceremonies and meet other like-minded Goddess-loving people and explore our developing Goddess spirituality. Since we opened Goddess Temples have opened or are being planned by Priestesses who have trained with Goddess Temple Trainings, in other parts of the UK, Holland, Spain, USA, Hungary, Argentina, Czech Republic, Sweden, Belgium and Australia.
Please visit the Goddess Temple website for more information about it.