Our Suppliers
We are delighted to work with some truly talented people on our Weddings. Here is a list of the incredible suppliers we work with!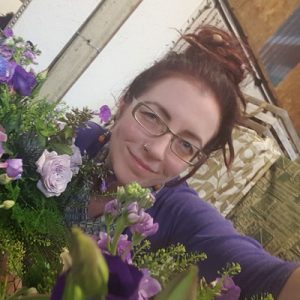 Nina Jane is an artist who works with flowers and loves having the opportunity to become part of the vision. She gets excited when I talk to couples about the style, colours and texture that would suit their wedding. Country styled Somerset weddings have been a real inspiration over the past 12 years with experience of the more alternative wedding moulding her reputation and passion. She lives in Glastonbury and has a studio in Barton Saint David.
Nina offers a full Bridal Floral Service with a complimentary Wedding consultation provided locally to discuss all your ideas.
Rainbows End Cafe in Glastonbury has been in the same safe hands for 35 years.
This much loved, award winning business has a reputation for producing wonderful food and fabulous cakes, also offering a bespoke celebration and wedding cake service.
With 20 years experience in designing and baking the most amazing cakes, Harriet will lead you through the journey of bringing your dream cake to life.
Geoff has lots of experience shooting ceremonies and handfastings for Glastonbury Goddess Temple Weddings, as well as a deep and sympathetic understanding of the rituals involved, and pagan spiritually generally.
He is a highly experienced photographer and photography writer / blogger, and deputy editor of Amateur Photographer, the UK's best-selling photo magazine. He is also a Licentiate member of the Royal Photographic Society (an internationally recognised qualification) and a graduate of Aspire, the UK's finest wedding photo school.
Videographer – Peter Bluck
Play It Forward Video Productions are delighted to be the official videographers for Goddess Temple Weddings. They have over twenty years' experience in producing videos and their aim is to produce for you a truly memorable video of this wonderful occasion. Filming is carried out on JVC Pro 2K / 4K cameras and edited on Macs using the very latest software. To see some of Peter's work, watch the video on the home page.