Priestess Dawn Kinsella Wins an Award!
We are delighted to share that Priestess Dawn Kinsella, Celebrant and authorised person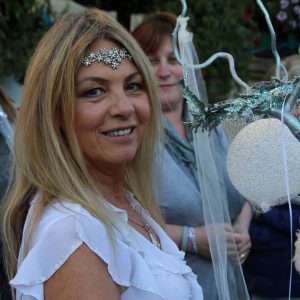 for legal marriages for Goddess Temple Weddings, was awarded a certificate at the Convention for Civil Celebrants in Kettering, September 2018. She was awarded the Runner-up Certificate in the category of 'Influencing the Wider Profession.'
'The judges were impressed by the nominations Dawn received saying how wonderful her ceremonies are but most importantly her work in setting up an academy to further teach and spread knowledge of pagan ceremonies.'
As Handfastings are becoming increasingly popular, Dawn is drafted to the Midlands each year to hold workshops for Civil Celebrants on how to conduct these beautiful ceremonies.
In January 2018, Dawn founded the first academy to teach an accredited nine-month training programme in Pagan Celebrancy; an intensive programme on how to conduct ceremonies such as Handfastings, Baby Namings and Passing-over ceremonies.
The training itself is an Academy of higher learning, situated in Glastonbury Somerset, with a team of Priestesses from the Glastonbury Goddess Temple. Contact Dawn for more information on this.