Ian and Sarah
"We were wed by legal handfasting at the Goddess Temple in April 2018. Although we only provided four months notice, the organisation and professionalism of the temple staff was outstanding. Everything went without a hitch and we felt safely held throughout the planning stage.
The ceremony was the most heartfelt and moving day of our lives, beautiful, sincere and inspiring. We had a mix of spiritual people and family there, all of which were blown away by the ceremony – they still talk about it now. Similarly, the goddess temple were a great support for arranging the other important things too. With their recommendations, the photography and flowers were both amazing. It truly was the most beautiful day of our lives and we can't thank the team enough for everything they did for us. Highly recommended."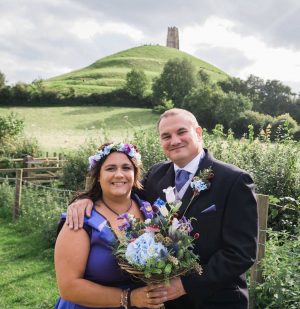 Kerry and Simon
"We had our wedding ceremony with Goddess Temple Weddings and it was a great day and really special. Iona, Sharlea, Dawn and team was a great help in booking, organising and helping us to make the ceremony truly personal and deeply meaningful. Iona was great in helping with booking the hair, makeup and flowers as part of Rhiannon bridal package. Sharlea and Dawn held our ceremony, which was beautiful held space, both made us feel at ease during the ceremony, and our family and friends loved and enjoyed the day too. We had our wedding reception at the Blue Note Cafe, and the food and cake was amazing and a lovely intimate venue and the courtyard was beautiful with all the fairy lights and flowers. I would highly recommend Goddess Temple Weddings and thank you for making our wedding day truly amazing. xx"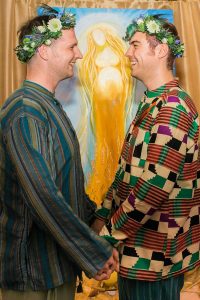 Joe and Dale
"From the moment we stood in the Temple we knew we wanted to be married there. It's almost indescribable but we will make an attempt: the space feels alive as if it were its own creature. An Ancient and Knowable creature whose beauty outshines all others. A deep deep soul with an open and loving heart. You feel a presence and a power and a stillness and serenity all at once when you're residing there. We are a same-sex couple and we felt considered, included and completely understood by everyone we met through the Goddess Temple. We had imagined it would have been so stressful to arrange a wedding from London in a town which we didn't know well but it was a dream and a lot was down to the care and support of the wonderful Iona who helped to organise our wedding. She talked us through options for the reception and guided us expertly through to a day that was perfect in every way. The day itself was magickal and the ceremony was so moving, so personal and so loving and left us all feeling elated, connected and joyous. And Sharlea, our priestess who was with us throughout the whole process, suggesting small elements of the ceremony we could adapt so beautifully to make our wedding bespoke and personally special for us – we thank you! We feel a strong connection the the land, the people and The Goddess Temple itself. We miss everything dearly and cannot wait to return soon."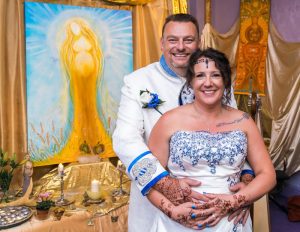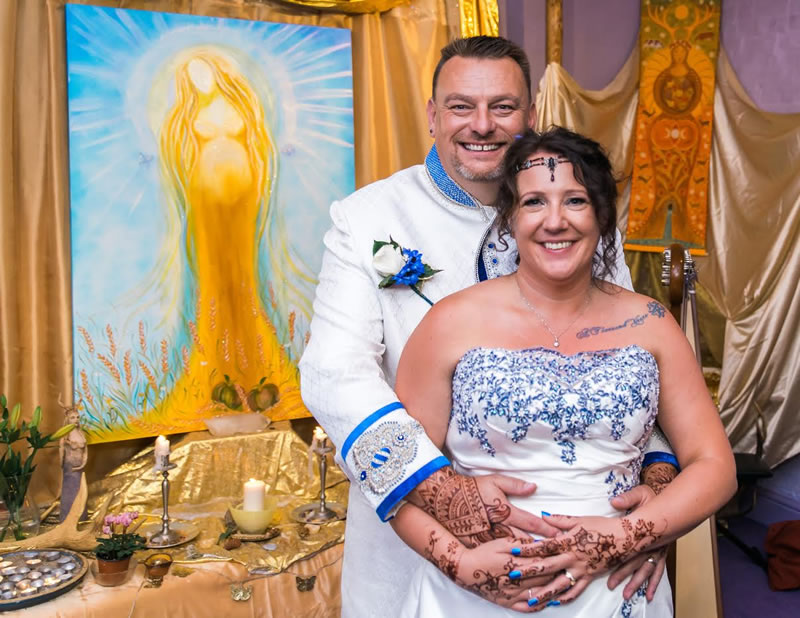 Mandy and Darin
"We would like to say a huge thank you to Team Wedding for planning, co-ordinating and delivering a wonderful wedding day for us and our guests to enjoy. It couldn't have happened without you all. Iona, your gentle persona and excellent planning skills meant that our day ran smoothly and the venue looked beautiful. Your contacts, such as Nina from Enchanted Florals and Harriet from Rainbow Café are the most helpful and creative people we have met. And of course, we would not be married if it were not for Dawn and Sharlea who arranged and conducted such an emotive ceremony. The majority of our guests had no prior experience of a handfasting and many of them afterwards told us how informative Dawn had been in explaining a little of its origin. Many also commented that it was great to see the amount of love expressed throughout the ceremony. One of the best days of our lives, which will stay with us forever. xx"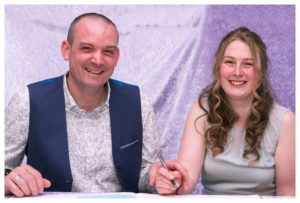 Ellie and Stu
"We were absolutely blown away by yesterday's Sacred Marriage Ceremony at the Temple. It was the perfect culmination of all of your support and guidance for the last 18 months and for us it could not have gone any better. Your grace, authority, love and passion for bringing the ancient rites back to modern times is absolutely breathtaking.
All of our guests have not been able to stop talking about how profound, meaningful, thought-provoking, honest, real and authentically 'us' it was while also describing how it moved them individually. Some are even talking about renewing their own vows with you all!!
We are still basking in the light and love of the special and sacred space that you created for us and know that we will take it with us into our marriage. We will be back again in August to visit and will spread the word of the Temple.
If you ever need anything from us please do reach out to us, we do feel deeply connected to the space and will continue to channel the love forever."
Nanette and Andrew
"We had the most magical, heartfelt, soul-bonding ceremony at the Goddess Temple. We wanted a very private, personal ritual and Sharlea and her gorgeous Melissas gave us just that. From the moment we arrived everything was just so real, honest and perfect in every way possible. This is the one moment in time where you have the chance to truly express your love and intentions for one another and to do so in a way that is just as unique and special as you both are. Our heartfelt thanks to Sharlea and her priests/priestesses, we are eternally grateful."

Damon and Lisa
"On behalf of my lovely wife Lisa and I, thank you all so much for making yesterday so special. The ceremony was magical and the reception was amazing. Much gratitude to Iona, Sharlea, Dawn, Christina and Trevor and everyone else involved. Many thanks and much love from us to you."

Pat and Keith
"Just a very big thank you to you, and all your team, for making our marriage such a very special occasion. The whole family told us that they are so pleased that they were included in our celebrations – they really did appreciate all your efforts and organisation – it will be a wonderful memory for us all, and such a wonderful promise for our fresh start together.
We look forward to returning to Goddess Temple many times for quiet moments and very happy memories.
Thanks again to everyone for our very special day!
Pat and Keith xx"