Other Ceremonies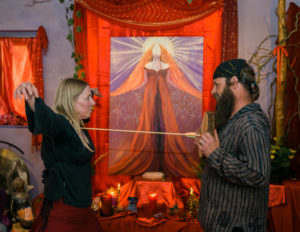 Fire Walking Ceremony
Firewalking is a powerful way of deepening your vision of your future together, and making a step towards your commitment to a new way of being. It can also work with any fears you have about stepping forward together and burn away things from your past that you do not wish to carry forward with you. An evening ceremony, which can be part of your Wedding preparation or on the actual day of the wedding. Great for groups 15 plus.
Glasswalking Ceremony
Glasswalking helps you to reflect on how you came to where you are in your life now. It helps heal past wounding and old behaviour patterns in order to step forward into the future. It's also great for trusting your body, and deepening our understanding of how we call for support from others. A quiet meditative ceremony suited best to preparation for your Wedding.
Arrowbreaking Ceremony
Arrowbreaking is an inspired ceremony that helps the Bride and Groom get clarity on their individual vision for this new phase of life they are entering. It is brilliant for really cutting through fears in a swift-acting way. It is great as part of the Wedding preparations or can be woven into the Wedding Ceremony. It takes about half an hour for a couple.
Rebar Ceremony
Rebar (metal bar) bending is a amazing way of deepening your trust in each other. Looking into each other's eyes, you walk towards each other and bend the metal bar, which is balanced at the top of your chests. This ceremony strengthens your communication and heart connection. It is powerful as part of the Wedding Ceremony or during preparations. It takes about half an hour for a couple.